Within national borders, electricity can generally move freely on highly interconnected networks. But on an international scale, networks tend to be much less connected. So what happens when you want to trade electricity across borders?
In Europe, the trading of electricity across regional and national borders is referred to as "electricity market coupling," and it's a complex mathematical puzzle.
In theory, it's as simple as trading electricity and capacity across independent areas (a.k.a. "bidding zones") based on need, which is accomplished via auctions (either explicit or implicit).
But in the real world, every electricity network has constraints — limits that prevent electricity from flowing freely. At the most basic level, these are laws of physics (e.g., Kirchhoff's laws, thermal limits of transmission lines, and losses).
For short-term capacity trading (i.e., in the day-ahead market), trades need to happen fast. Computer algorithms take into account all of the relevant information and automatically allocate cross-zonal capacity. These algorithms are based on models of the actual networks being connected. But due to their size and complexity, modeling all of the actual constraints of a large network isn't feasible.
Therefore, the challenge for every market coupling algorithm is to achieve the best trade-off between a model that accurately reflects real physical conditions and one that is simple enough to enable the computer to allocate capacity and coordinate trades quickly — all while ensuring reliable operation of the power system.
At N-SIDE, we solve complex market coupling problems. For example, the EUPHEMIA algorithm we developed is used to couple 26 European countries.
In this article, we'll detail two common approaches to modeling grid constraints for market coupling and their real-world implications.
Available Transfer Capacity
(ATC) models
One common method for modeling grid constraints is Available Transfer Capacity, or ATC. ATC models are based on fixed commercial capacities available for trading, which are set in advance by the TSO.
Using this type of model, the TSO takes into account historical data, flows, seasonality, and security margins. From this data set, the TSO decides on a Net Transfer Capacity (NTC) value. Long-term nominations are subtracted, resulting in Available Transfer Capacity.
Flow-Based (FB) models
Flow-Based models take a more general approach, which allows for more precise modeling of physical constraints compared to ATC models.
FB models linearize the laws of physics (i.e., Kirchhoff's laws) around a forecasted "functioning point" of the grid. Unlike ATC models, which work based on fixed commercial capacity, FB models work to align capacity with the physical constraints of the grid.
To do this, a model of nodes and lines is created based on data provided by TSOs across the regions being coupled.
To create this model, Critical Network Elements (CNEs) are identified, as well as contingencies (i.e. failure of one or more network elements). Together, these are referred to as Critical Branches (CBs).
Rather than considering the constraints of every single element, only the constraints of critical branches are incorporated into the model. These usually include all cross-border lines and some internal lines.
Then, we can obtain an expression of the flow on each CB as a function of the net positions (the amount of electricity being imported/exported) of the bidding zones. The coefficients of these expressions are called Power Transfer Distribution Factors (PTDFs).
Finally, the expression must be bound by the flow of the Remaining Available Margin (RAM). RAM is the total capacity offered on the day-ahead market after accounting for security margins and long-term nominations.
ATC vs. Flow-Based Models: which is better?
While FB models are more complex than ATC models for market coupling, they provide results that make the added complexity worthwhile in most cases.
Compared to ATC models, FB models usually produce:
A larger, more general model area
More cross-border trading opportunities
Increased price convergence
More optimal allocation
This is because, in an FB model, allocation is based on the actual quantity accepted in the bids (which defines the net positions, which in turn defines the flows) rather than prior predictions from the TSOs.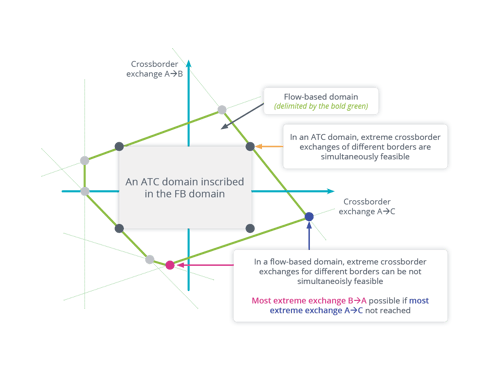 Challenges of Flow-Based models
If FB models are superior to ATC models, why aren't they used in all cases?
One reason is that the results provided by FB models are not always intuitive, and tend to be harder to understand than the results provided by ATC models.
For example, FB models allow energy to flow from a high-priced area to a low-priced area (a "non-intuitive" result). Why? Because some non-intuitive exchanges can actually free up capacity, which then allows for larger exchanges between other markets, relieving congestion on the line. So while a single trade was non-intuitive, the model still increased social welfare in the big picture.
Still, non-intuitive results can be challenging to understand for many stakeholders. In fact, when EUPHEMIA was launched in 2014, it used a Flow-Based model of the network that automatically rejected non-intuitive power flows (called the "Flow-Based Intuitive" methodology). In 2020, the algorithm was patched to allow for non-intuitive flows that result in greater social welfare (called the "Flow-Based Plain" methodology).
Another challenge of FB models is computing resources. FB models are larger and more complex than ATC models, and are more computationally challenging, which can mean longer time-to-resolution of trades.
However, all of these challenges can be overcome by a smart and efficient FB algorithm.
Flow-Based market coupling in Europe
For more than a decade, European authorities, power exchanges, and system operators have been on a mission to couple Europe's various bidding zones. N-SIDE has been a key part of these efforts, developing the market clearing algorithm (known as EUPHEMIA) used to trade electricity and capacity across 26 countries.
The unification effort aims to connect the many smaller regional markets on the continent. Some of these markets use ATC models, and some use FB models. The EUPHEMIA algorithm is smart enough to cover all of the different network models in its coverage area.
However, because of the distinct advantages of Flow-Based models and EUPHEMIA's proven capability to handle their complexity, the general trend is for each region to move away from ATC models and toward Flow-Based models.
Source: ENTSO-E Market Report 2022
The Central Western European region (CWE), which includes Germany, Austria, France, the Netherlands, and Belgium, has operated on a Flow-Based model since 2015. In 2022, the entire CORE region, which includes the CWE countries plus Croatia, the Czech Republic, Hungary, Poland, Romania, Slovakia, and Slovenia moved to a Flow-Based model. We expect the Nordic Capacity Calculation Region to follow suit in the near future.
Learn more about the results of EUPHEMIA